Would it not help if you and your loved ones got the same care and nursing support at home rather than go to a healthcare facility?
MedCare at Home will provide the following home health care programs at flexible schedules and cost-friendly service rates.
A Caregiver is someone who is compassionate, reliable, knowledgeable, skilled and most importantly, trustworthy. MedCare at Home helps you finding the absolute best Caregivers to provide seniors and anybody who needs assistance at home, care giving services assuring their families peace of mind.
According to Population Census 2011 there are nearly 104 million elderly persons (aged 60 years or above) in India; 53 million females and 51 million males. A report released by the United Nations Population Fund and HelpAge India suggests that the number of elderly persons is expected to grow to 173 million by 2026.
Both the share and size of elderly population is increasing over time. From 5.6% in 1961 the proportion has increased to 8.6% in 20 11 . For males it was marginally lower at 8.2%, while for females it was 9.0%.
As regards rural and urban areas, 71% of elderly population resides in rural areas while 29 % is in urban areas.
The life expectancy at birth during 2009-13 was 69.3 for females as against 65.8 years for males. At the age of 60 years average remaining length of life was found to be about 18 years (16.9 for males and 19.0 for females) and that at age 70 was less than 12 years (10.9 for males and 12.3 for females).
The old – age dependency ratio climbed from 10.9% in 1961 to 14.2% in 2011 for India as a whole. For females and males , the value of the ratio was 14.9 % and 13.6% in 2011.
Call and speak to one of our friendly team members who will discuss your requirement, setup a meeting at your home.

We will provide you with a free, no obligation assessment. This is important since we hope to match you up with someone who fits perfectly in your home.

Once agreed, we will setup your care program and introduce you to your Care giver.
Why choose MedCare at Home?
We are committed to being your shoulder to lean on and providing honest advice for your loved one's situation during this delicate time.
Daily care experts
We specialize in around the clock care to help seniors and/or ailing live well at home
Peace of mind
Our plan is to allow seniors, patients and anyone we offer care as well as their families to have peace of mind.
Available in 12 hour shifts
We are available in 12/2*12 hour shifts to provide your loved one with a caregiver.
A trusted partner
MedCare at Home is the trusted referral choice for elder care and assisted living needs
Balanced care
Our holistic approach to care promotes healthy mind, body and spirit.
Passionate & Positive
Light exercises and walks to keep aging minds sharp
Skilled caregivers
We typically hire after a rigorous screening and verification process and provide ongoing training.
Flexible Contracts
Use our services only as long as you're 100% satisfied.
0
High Client satisfaction rate
0
Passionate Home heath care professionals
0
Focussed on Skilling and Training
Our process to match the caregiver with the patient is unparalleled in our field.
Read below what our clients have to say and learn more about what makes us the premier provider of in-home senior care.
I have been using the services of MedCare @ Home since 2014, and I am very satisfied with them. The caregivers are reliable and good.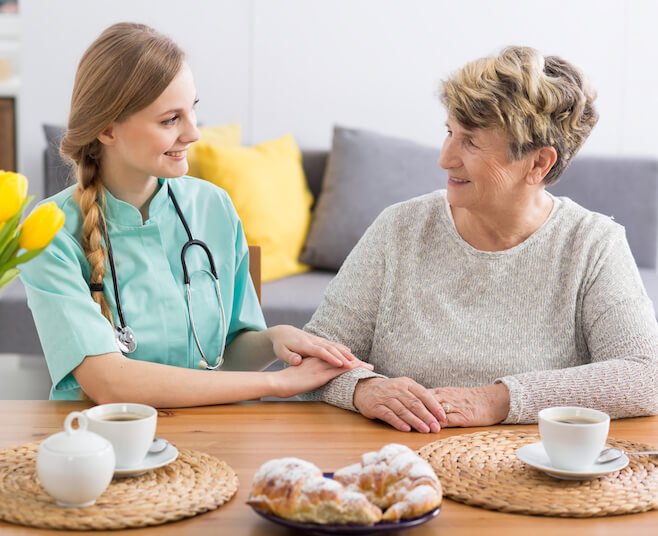 I would like to commend both Pushpa and Mamta on their services. Pushpa is very very caring and goes out of her way to help Ma. Ma gets violent with her, but she takes it in her stride, and infact counsels us to overlook. Mamta too has been extremely helpful in understanding Ma's needs and being flexible in caregiving. We deeply appreciate their support.
I have been using the services of MedCare @ Home since 2014, and I am very satisfied with them. The caregivers are reliable and good. Two of them looked after my mother for more than 2 years with such patience and affection till she passed away last month. Now I have very good people looking after my father, and my mother-in-law. I would strongly recommend the services of this company basis my experiences.
The attendants provided by MedCare @Home are professional and good. They are punctual, clean and pleasant. They would do well if the company provided more training on soft skills to add greater value. Training should also focus on people skills to help getting along with each other.
Excellent service offered. Very prompt action taken by Ram Chander when we needed a change.
We would like to inform that the caretaker ladies were extremely polite, caring and well-behaved. Priyanka and Pooja were excellent in taking care of my mother. Very professional and excellent service.
The service was very good and prompt. The attendants were co-operative and willing workers. The manager Mr. Ram Chander was extremely co-operative. It was a good experience from all of us.